Home > Our Products
Our Products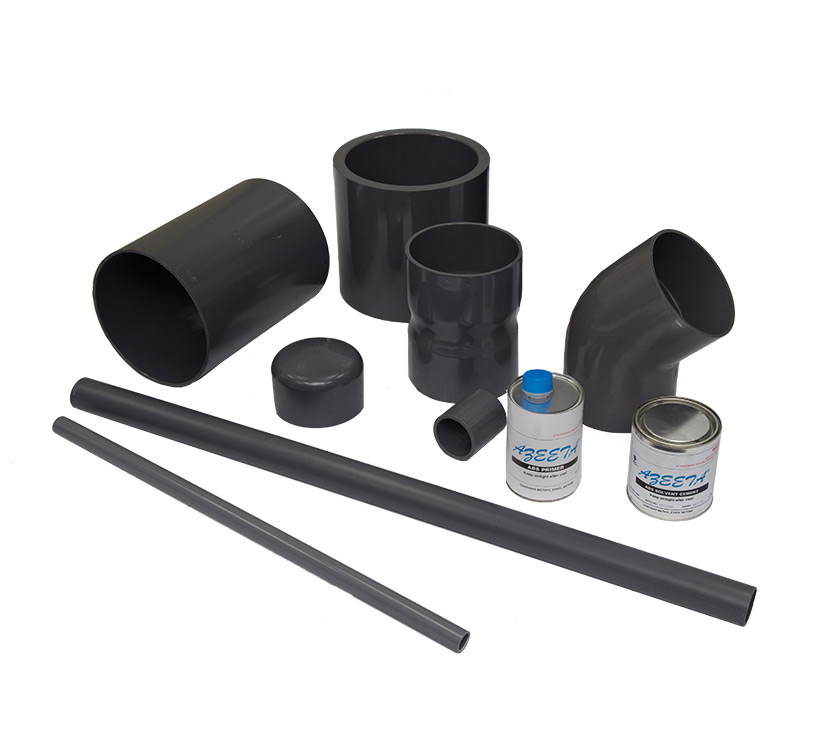 ABS Pressure Pipes & Fittings
ABS is a copolymer of Acrylonitrile, Butadine, Styrene blended to give unrivalled properties, offering a number of benefits over traditional materials.

It is an extremely versatile material suited to a wide range of piping applications, ranging from conveyance of potable water to highly corrosive chemicals. The large diversity of end uses make ABS one of the most successful of the engineering thermoplastics available.

Piping systems manufactured from this polymer display outstanding properties, which make ABS the first choice for many of the most demanding piping applications. Exceptional properties of ABS imparted by the raw material are :
Toughness
High impact strength
Good chemical resistance
Non-toxic material. Suitable for portable water intended for human consumption.
Wide operational temperature range, from -30℃ to +60℃.
Features:
Fully integrated range of pipes and fittings available from 15mm to 630mm. Significant savings in installation time and costs.
No scaling
Robust and reliable,
Tough and durable,
Exceptional smooth bore.
Reduced insulation.
Designed to last 50 years.
No corrosion
Minimal maintenance.
Light weight.
Ductile
Fast and reliable jointing.
Manufacturing Standards:
MS 1419 : Parts 1 : 2007
MS 1419 : Parts 2: Section 1 to 8: 2007
MS 1419 : Parts 3 : 1997, AMD . 1:2018
MS 1419 : Parts 4: 1998
AS/NZS 3518:2013
AS/NZS 3690:2009
AS/NZS 3879:2011
BS 5391 : Parts 1
Application:
Potable Water Reticulation

Ash and Slurry Transportation

Chilled and Condenser Water Circulation

Clean and Waste Water Treatment Plants

Domestic Plumbing